PACKAGING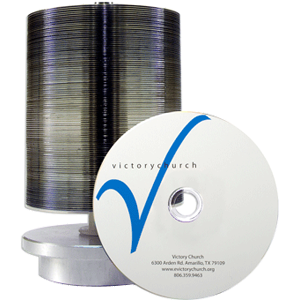 Are you still printing your CDs and DVDs in-house? Have MediaXpress print your discs for you. We offer silkscreen printed CDs, DVDs and Blu-ray discs at a fraction of the cost of printing them in house. Silk screen printed discs are a superior product compared to desk top printed discs, one hundred percent water proof and ready to burn. Save the hassle from your staff of changing ribbons, fixing printing issues, monitoring printing quality and ordering supplies. We have two, five-color screen-printing presses with a capacity of printing over 50,000 discs per day. We also offer digital screen-printing for shorter runs, variable data and unique barcodes.
Disc artwork: Vectored artwork is the key to great looking discs. Take advantage of the MediaXpress graphics department and have us design the layout of your disc label. We also offer a free design tool.
Medical industry: Trust the number one source so many medical companies depend on for screen-printing medical CDs and DVDs. With a one hundred percent guarantee on your CD media, we also offer paper window sleeves, slim line and clam shell cases as well as custom printed board packaging for mailing your discs to your customers.
Law Enforcement: MediaXpress supplies custom printed blank media for the largest federal agencies in the country. MediaXpress only carries archival grade media. Your discs will arrive printed and ready to burn. The white, screen-printed flood, applied when screen-printing is critical to protecting the data stored on optical discs and it provides an easy writing surface. We also offer custom printed flash drives, The SD 102 credit card flash drive is our top seller for the law enforcement industry, the drive provides enough surface space to write on and easily fits into your evidence folder.
Ordering silkscreen printed discs: You can order digitally printed CDs and DVDs and Blu-ray discs on line 24/7. However, for silkscreen printed discs, we recommend you work with our trusted staff to help you with placing your first order. Silk screen printing is not a digital process. The process requires, films, plates and vectored artwork. But once your artwork is approved, re-ordering is easy. We archive your electronic file and keep a printed physical sample for reference in a job jacket for future orders. We always send a safety proof to insure each order is printed with the correct file.
Turn time: Five to seven business days, for silkscreen printed orders.
| Quantity | 1 Color | 2 Color | 3 Color | 4 Color |
| --- | --- | --- | --- | --- |
| 250 | $0.98 each | $ 1.10 each | $1.34 each | $1.38 each |
| 500 | $0.66 each | $0.72 each | $0.84 each | $0.86 each |
| 750 | $0.55 each | $0.59 each | $0.67 each | $0.68 each |
| 1000 | $0.37 each | $0.37 each | $0.38 each | $0.39 each |
| 2500 | $0.33 each | $0.34 each | $0.34 each | $0.35 each |
| 5000 | $0.29 each | $0.30 each | $0.30 each | $0.31 each |
Not what you're looking for? Click Here for Full Color, Digital Printed Media

1

Choose

2

Confirm

3

Get a Quote

4

Design it!

5

Submit
Start Your Project Today!